Reading non-fiction books becomes a huge part of my life. I'm trying to read only the most recommended books by people I respect, or one with the highest rating. Of course with some exceptions. Therefore I've got this feeling that if I'm spending a significant amount of time doing something then I should automate or improve it.
For example – my first ebook reader was barely switching pages – but that test gave me valuable information: I like this experience, though I read more books and more frequently. This in turn provided a clear next step of buying a faster reader with a backlight: Kindle. Time goes by, and after using it for 3 years, I learned what works for me, and what can be improved again.
Let's explore it in detail.
Why not Kindle?
Closed ecosystem
I was strictly bound to .mobi files as Kindle doesn't support .epub. When I had .epub books – I needed to convert them, but that wasn't working well each time.
If you're living in a country, when English isn't your native language, books written in your language are probably not available in the Amazon store. Thus you may also be forced to use other services – which don't support Kindle or limit that support. In Poland for example, there are two choices. Legimi and Empik Go.
There's no Kindle larger than 7″
The most important reason for the change was screen size. Kindle Paperwhite has a 6″ display and for me, it is just too small. The largest Kindle Oasis is only 7″ – that's better than 6″, but it is only 8″ screens that are closest to the average book dimensions. After a month of reading – I agree. It's a huge difference – like moving from a small studio to n-times larger loft apartment. Also as it fits more text, you don't have to click or swipe every 5-10 seconds.
The only screen size that is used in readers closest to 8″ is 7,8″. There is not a huge selection of readers for this size. After reading reviews on youtube I picked 2 of them:
Onyx Boox Nova 3
Pocketbook InkPad 3 Pro
Onyx was a bit more expensive therefore I've tried Pocketbook at first. I'm not sure if I've got a bad unit, but it was made of cheap plastic, the casing creaked and was very delicate, and finally – it wasn't able to handle the books I was reading at that time – the app was closing itself with one file, and working slow with another.
I returned it, but one thing was stunning – the screen size of 7,8″ was exactly matching my needs, and there's no way back. While using Pocketbook for that one day, I also had a feeling that it would be the wrong decision as it doesn't play along with my workflow for learning new words. I was happy that I had to return it, as that requires Android as an operating system.
I bought Onyx Boox Nova 3 immediately.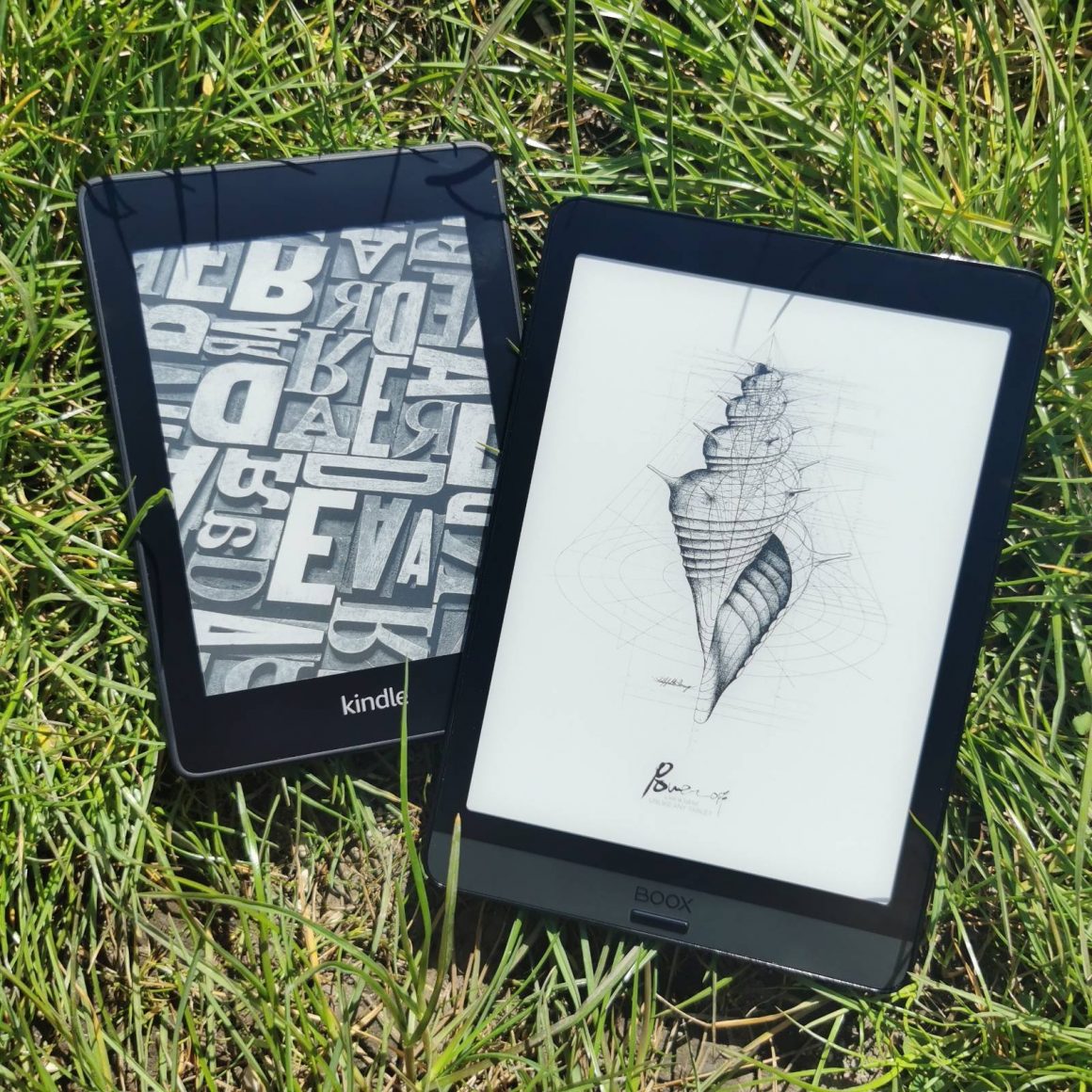 Why ebook reader with Android?
I will ansewer this question based on my experience with Onyx Boox Nova 3.
1. Learning foreign languages
Except for screen size, I had one more thing that I thought will make a huge difference for me. Ability to use 3rd party translating app. I recently wrote a separate post where I explained the efficient process for  saving words during reading, and how to move them easily to another app for future learning. I explained it based on desktop, but then I realized I can also do it quickly with mobile, and finally – with Android onboard, the same approach is now working on my ebook reader. If you're curious about how to do it step by step, check previous articles.
Within the reading app, Onyx provides a nice shortcut for translating with Google Translate.
Here's how translating and saving process is looking now on my reader.
I am very happy that I have this option because without it I needed a separate device or notebook to save things to learn later.
2. Web browser become useful
With Android ebook readers, you can install each app available for regular Android tablets. This also applies to browsers, but preinstalled one works fine for me – I can easily read articles on medium now.
3. Finally I can choose what I want to see on a locked screen
You can set whatever pic you like on the lock screen – unlike Kindle which forces you to watch random images of their choice. Though it's missing one feature from pocketbook – automatically setting cover of a book you're currently reading. I'm still not sure why all readers don't have that feature. It's like selling books without covers.
4. Freedom of picking apps for reading
Default reading app is great. Fast, resposive, highly customizable font options.
I mentioned earlier that sometimes our library of books is tightly coupled with another service. So if you want, you can use the Kindle Android app, or you can pick Google Play Books, or any other that can be installed on a regular Android tablet.
5. Pen and Wacom digitizer
I like paper notebooks so I'm not using this feature. Also, it wasn't my requirement, but if someone needs it – here's my opinion. It's working quite well, it's useable and useful. As far as I know, you can even take notes on ebooks files (epub/mobi), which is a cool feature if you like making doodles.
6. Cons of Onyx Boox Nova 3
The only disadvantage for me is lack of IPX8 water resistance.
Some say it's battery life. If you're using wifi, backlight, and apps that consume lots of RAM or need to refresh the screen frequently then sure – your battery, will be low quicker.
I need only apps to read books and Google translator. So if – like me – most of the time you're just reading or translating things, battery life is comparable with this in Kindle.
Future?
There's alwyas more to improve so I've got surprise for you. Not everyone knows but there new kind of e-ink displays with colors. And Onyx Boox Nova 3 comes with Color version too. For now, this technology seems too young for me, so I didn't buy it, but still, 4096 colors are a huge step forward. As far as I know, Onyx Boox Nova 3 Color is the best color ebook reader for the time being.
Summary
If you're still using Kindle (or something similar), then it's worth considering an upgrade for 7,8″ reader with e-ink and Android if you:
want to have the best reading experience (because it's close to regular-book dimension)
want to add new words to learn quickly
want to install applications of your choice from Google Play
Do you have similar hacks?