I started just one year ago (2020/2021). But because I clearly see how good this concept is, I thought it would be great to spread the word so that you can benefit from it this year as well.
YearCompass is a free booklet that you can print, or fill digitally. The idea behind is simple – help us close the current year and plan the next one.
How is that different?
So the classic approach is to "think about last year" and come to some conclusion or most likely not, then setting up a huge pile of goals that are not achievable at all.
YearCompas on the other hand is providing us lots of improvements over new years resolutions idea.
You can do it individually (which I did) or within a group.
Structure. It is broken down into well-thought-out sections. Which from my understanding are the same for each edition.
Every section will give you the opportunity to "learn from your mistakes, celebrate your victories, and set out a path you want to walk on" – which is a kind of good summary.
If you will continue doing it each year in that form, you'll have a priceless history of your progress over time.
There are dozens of translations – I did the Polish version for example.
New Year resolutions in my opinion are tasks/goals-based. YearCompass is also touching the emotional part of both years giving an opportunity to reflect on our feelings, relations, and more.
It's free – but you can support creators.
It was a fun and refreshing experience.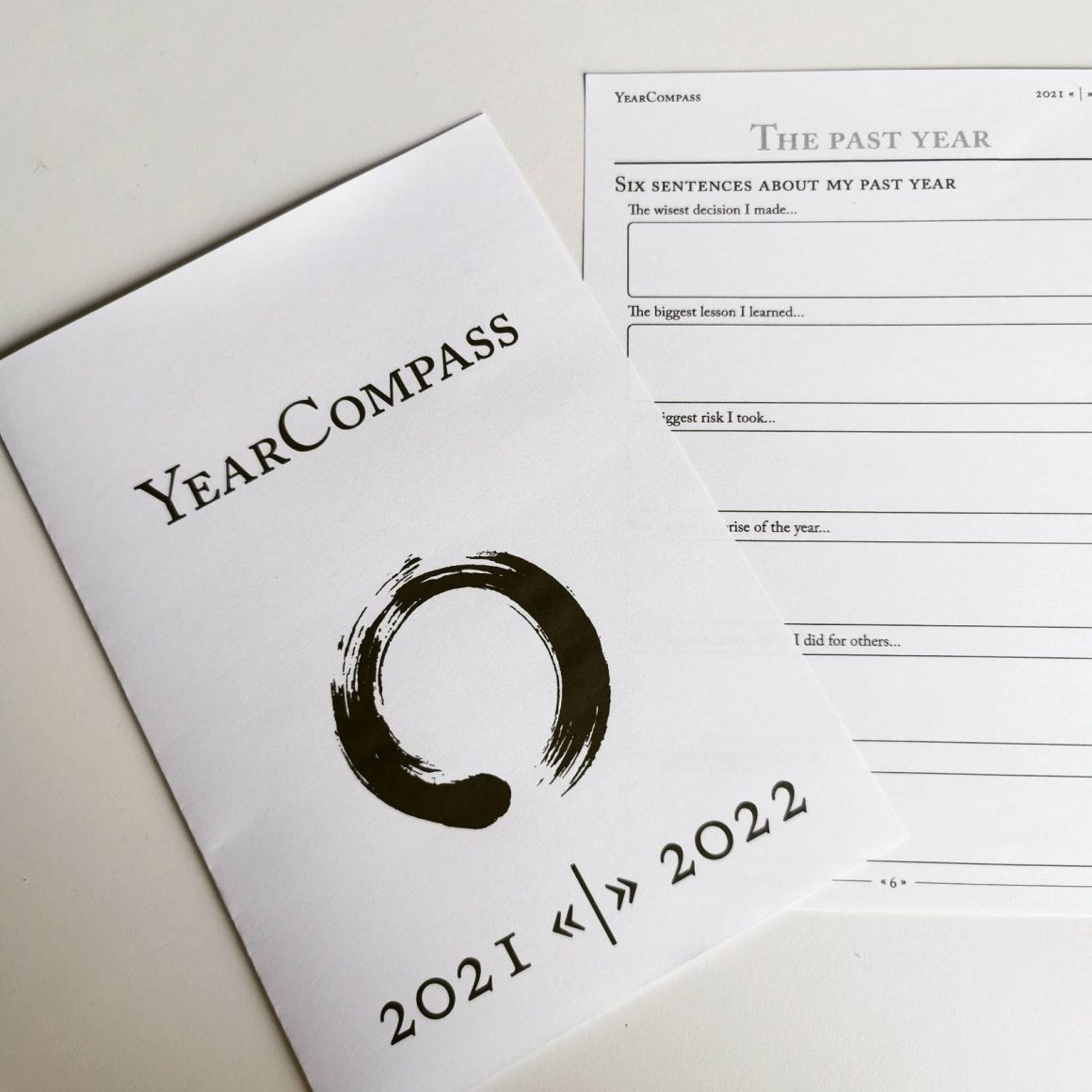 What do I need?
Booklet itself gives you instructions inside, but it won't be a large disclaimer if I say that you need a cup of tea, good music in the background, your calendar, and a couple of hours to reflect on things without a rush.
How to get it?
Simply visit their website and pick your:
language
format (standard or digital)
size (A4 or A5)
How do I tackle it
For me, it was very hard to recall everything based on my memory, calendar, tasks list. So after I did it last year I knew that the requirement of "calendar from past year" won't provide enough information. During this year, I started to write down short summaries each month of things that happened or changed, events that were meaningful, things, concepts, or meetings that changed me in some way. Just not to forget about them too quickly.
After reading Essentialism by Greg McKeown I think that there's actually one more improvement that may help reflect better on our decision making, which is keeping a journal. The author rightly summed up the typical approach to keeping a journal, which, as I think about it now, is no different from the standard approach to New Year's resolutions.
Typically, when people start to keep a journal they write pages the first day. Then by the second day, the prospect of writing so much is daunting, and they procrastinate or abandon the exercise.

Essentialism: The Disciplined Pursuit of Less – Greg Mckeown
This is exactly what happens to resolutions. Who didn't set lots of goals that were abandoned just a few days after? McKeown suggests the opposite for writing – less, but better. Maybe that's an oversimplification but I think of it as a tweet or a couple of them in terms of size rather than an essay. I suggest following that rule in resolutions also – less of them, but really meaningful and achievable. I hope that YearCompass will help you accomplish that this year.
When to do it?
I would say the week around the new year is a quite good time as we've got complete information about the previous year.
If I've managed to encourage you to take a different approach to New Year's resolutions, please share your impressions early next year.
About Self format
Thanks for reading — I hope you've learned something new. As I'm publishing content in many places about different things, so it's good to visit self.format where you can find all destinations.
self.format is something I'm creating. It's a blog about mobile development. It's a newsletter about self-development. It's also tweets and stories with handy tools and inspiring content.
See you there!