There are so many places that give you the ability to take long notes. Hands up, who didn't find right app to write, format, export and store researches, recepits, thoughts. If you've got a similar problem then here's good news – I had found the right tool.
It's somehow funny that writing is one of the most common thing people do with computers. And yet there are so many approaches with no clear leader.
I have tried many applications and I will show you what the best solution is, in contrast to other, more common options.
What I needed from note taking app (and still need):
Formatting ability
Ease of use
Portability (aka multi-platform solutions)
Access
Good design (preferably minimalism)
Good for normal and power users.
Auto-saving external graphics
TL;DR Straight to the point: I'm using Typora because for my use cases it's the only one software that meets all of the requirements.

Disclaimer: it's not sponsored article (what a pity).
UPDATE: I moved my notes to notion.so (I will probably create a new post about it), but I still think Typora is a very good tool but it's better for offline usage.
1. Formatting
Most common note taking app like Apple Notes or Google Keep doesn't have formatting feature or it is limited to simple bold etc. It's good only for quick notes with just a few sentences.
If I have to write down quickly numbers, shopping list or short note somewhere, I'm still using Keep for that cases. I also don't keep notes there forever. This kind of apps is like clipboard on steroids.
What I mean by taking real notes is writing longer texts like cooking recipes, books quotes, or useful articles fragments etc. that needs to be stored for a long time and should be formatted. So the text could have headers, lists, quotes, simple tables, images etc.
How about Evernote?

My previous choice for long notes was Evernote, but I discovered lots of problems with formatting, exporting and also it wasn't a generic app with restricted access to just itself.
Markdown
What you need to know is that Typora uses markdown. Markdown somehow standardizes formatting across the apps. One of the main benefit for us is that with markdown you're typing formatting instead of switch keyboard for a mouse to select one.
You could learn Markdown in half an hour or sooner for example from https://commonmark.org/help/tutorial/ or try one of online editors https://dillinger.io/ with help of syntax example from markdown cheatsheet.
When people saw it for the first time it is like: What the hell is it? And I truly understand it.
If you tried to use markdown and still have feeling that it's not for you, there is also simple/auto formatting mode known from any text editor like Word, Docs etc. Just select text and pick formatting from format or paragraph menu.
2. Ease of use
Other writing software that uses markdown for formattings like iA Writer, Bear, Ulysses etc. force you to generate a visual version of markdown or use two panels side by side (one for writing and one to see how the text will look like). It's real downside for me.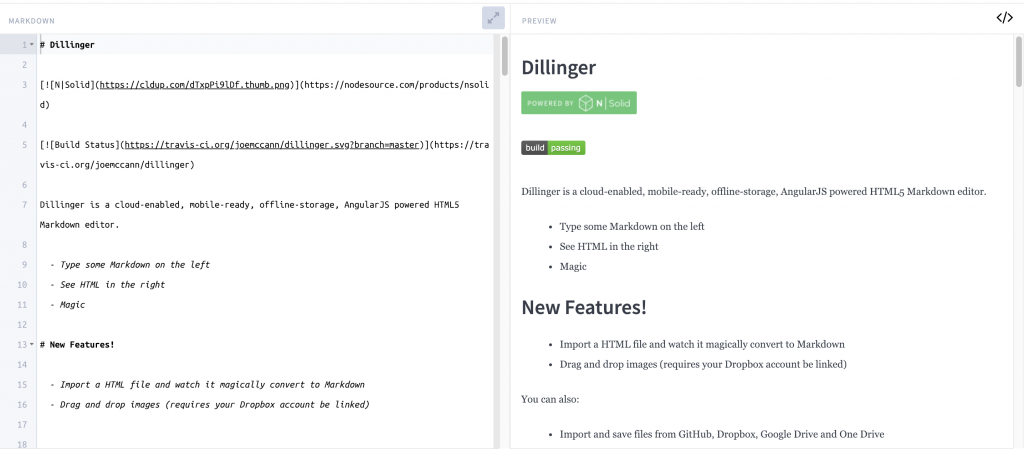 Realtime formatting generating
Typora bypass that problem by giving you the ability to make text formatted as you type in live preview, which is default mode.
If you want to see how it's done in markdown (for example to learn how to write it and not click anymore) you could switch to "Source Code Mode".
Typora connects two worlds: mouse, and mouse-less. For me, it's good to just write and don't have to switch keyboard to mouse use every single second.
3. Portability
What I mean by this term is that you could: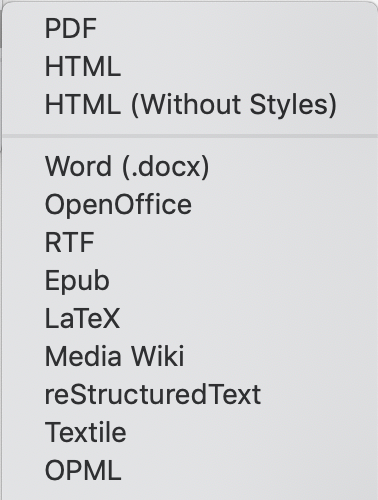 re-use your notes in other software – Typora writes files as markdown files with .md extension. All apps with the ability to run markdown files will open it. If you'll get familiar with markdown, you could also read it as a raw text file in the worst case, or convert it to other formats. Typora gives you the ability to export files in lots of formats. If you're using Evernote, you could export your notes only to HTML.
use one software that you could run on all platforms (windows, mac and Linux, and perhaps mobile: ios and android) – Typora support windows, Linux and macOS. If you want to open your files from mobile or web you have to store your folder with notes in the cloud (I will tell you about it in next point) and open with app that opens markdown files (eg. JotterPad for Android).
4. Access
Note taking software should give you the ability to have access to your notes online somehow.
For example if you're using Google's Keep you have all your notes connected to this specific account. What I want to have instead of being dependent to one product, is to have my notes as files in folder that I could sync, send, share and also have them offline.
Typora have best user experience approach in this particular case. You just pick folder (which could contain other folders) and you see just them. It didn't force you to use their backup solution.
If your notes are placed in a synced folder (so you could use Dropbox, OneDrive, Google Drive etc.) then you have them almost everywhere you want.
5. Good minimalistic design
It's good-looking, minimal, solid application with smooth user experience. It is done in a way that every software should be crafted.
6. Power user
Hidden features and lot's of additional preferences and customization options are things that power users like the most. So let's take a quick overview:
rendering options
programming language recognition
coping and pasting works like a charm
7. External graphics
At the beginning of journey with Typora I was a bit confused with images.
After pasting a long fragment of text with photos from the web, images were just rendered from the web. That means if they will be deleted from the website, I will never ever see what I "saved". But it's just default behavior.
Inside settings menu, you could specify if you want to view photos from the web (links) or to save them in a specified folder after pasting text with some images to Typora.
In that way, I'm no longer worried about external resources expirations because I've got backup locally on my disc (which I'm also backing up in a cloud).
You could read more about this feature on https://support.typora.io/Images/
Other things worth to mention
There's no perfect software. One downside at the moment of writing this article (not for me actually, but I know some users point this as a disqualification) – it's a beta version, but solid one. Currently, software is free, but after going out of beta you will have to pay for it.
What I liked in Evernote was files preview inside a note (pdf especially). I didn't find another app that was able to do that, but I finally choose to not store pdf's or other non-text files except images in notes, so now I can live without this feature. It is the downside of non-generic software. When you'll find a feature that only one software has, then you'll have a big problem when it comes to switching to something else.
Summary
I hope that this brief overview of Typora gives you enough reasons to try it and learn something new.
Stay tuned. The second part of Productivity tools series will be published soon. I'll show you a good approach for tracking progress of life elements (i. e budget, journal).